To live on a motorcycle, you will need to change the way you do certain things. This includes the way you plan, work, eat, sleep among others. It can get really hard if your mind isn't in the right place which is the most important part of it all.
Overview
Living on a motorcycle can be both the most exciting and the most challenging time of your life. In this guide, my goal will be to help you make the best choices before and during your trip or change of lifestyle.
We will discuss the following:
What to expect in this guide
Planning your new lifestyle
The gear that you need
Equipment
Biker bushcraft
Safety and security
Income
What you will gain from this lifestyle
What to expect in this guide
I will guide you through the process of planning your routes, buying the suitable motorcycle for the type of riding, the gear you need to take along, and what not to take along.
We also have a look at your safety and security, how you should budget for the road, forms of income that you may consider, and how to schedule your time.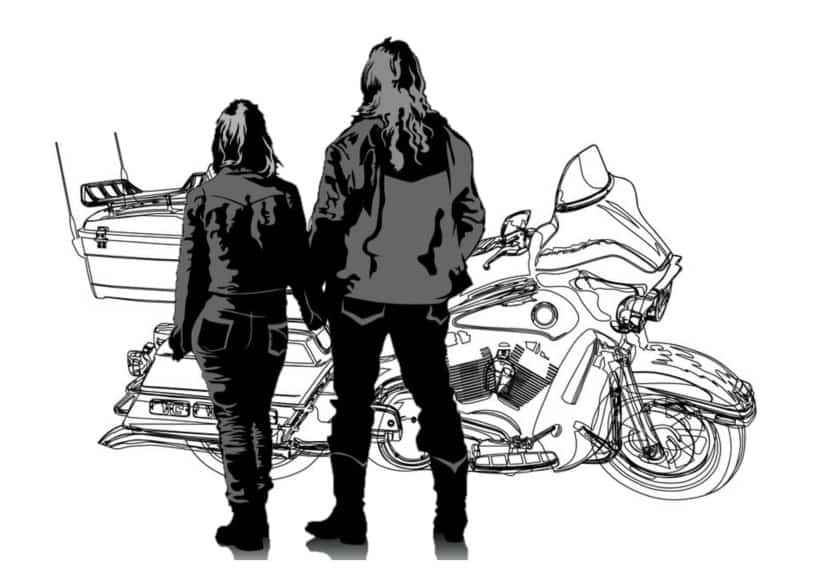 Planning your new lifestyle
When planning for your new lifestyle on two wheels, you need to know what questions to ask. Because like any other human being, we don't know what we don't know.
What is it like living on the road?
I feel that I have to make this clear from the start; there is a huge difference between living on your motorcycle and taking a long trip on a motorcycle.
It doesn't matter in which country you live you will most likely need to register a physical address whether it is to hold a bank account, pay taxes or register a mobile number.
You might have to rely on friends or family to make use of their physical address. If you are entirely living on your motorcycle and don't rent a garage somewhere to keep some sedimental items, your bike most probably is your only home.
There is almost always a shortage of privacy when you are in a populated area. Sure you can stay in a hotel now and then, but can you really afford that? This may lead you to change the selected routes you were planning.
You might discover that hygiene is somewhat different; you can't jump through the shower as you want but instead, when one is available at a truck stop or campgrounds. And if you are taking the backroads, you might be using a wet cloth most nights to take the dust off.
You may find that not everything goes according to plan; your bike might break down, some of your possessions might get stolen, or a family member get very ill while you are over 3000km away on a motorcycle with very little or no money.
Even though it may be tough at times, there is always a reason to keep going every single day. There are not a lot of people living this way, and it is certainly an experience that has a high value.
Where to travel?
Where you are going is entirely up to you. But it would be smart to decide when you are going to travel to a particular place. You don't want to get caught in the winter snow or the rainy season.
So there is a bit of general planning when considering the seasons, but you should also do some research on a specific place you intend to visit. While I was travelling through Europe, I missed some awesome places because I had failed to research the area in many cases.
If you plan on travelling outside of your country, make sure you have a valid passport, and you meet the specific country's requirements. I know for a fact that if you are going to Europe, you will need to have a job or a considerable amount of money in your account, among others.
In my opinion, I would say; don't think too small. About a year ago I met a guy from Italy who had just returned from his tour in Afrika. He had a Vespa (a scooter!) which he used to go all the way to Cape Town and then back again.
What food are you going to eat?
I always used to take nothing except water along and then got myself a pie or something when I stopped for fuel. But these days, I try to live healthier, and some countries are costly when it comes to takeaway meals.
My newest standard or default meal is very often instant noodles with an egg. But as you go along, you will discover that you can't eat the same food every day.
So here is my weekly list of foods I try to eat when I am travelling.
| | Morning | Afternoon | Evening |
| --- | --- | --- | --- |
| Monday | Instant oats & coffee | Snackbar/s & cola | Tuna & i.noodles |
| Tuesday | Instant oats & coffee | Snackbar/s & cola | Instant soup & bread |
| Wednesday | Instant oats & coffee | Snackbar/s & cola | 1 egg & i.noodles |
| Thursday | Instant oats & coffee | Snackbar/s & cola | Smoked sausage & corn |
| Friday | Instant oats & coffee | Snackbar/s & cola | Rice & currie vegtables |
| Saturday | Instant oats & coffee | Snackbar/s & cola | 1 egg & i.noodles |
| Sunday | Instant oats & coffee | Snackbar/s & cola | Takeaway meal (varies) |
I have to admit that I change my list very often and only buy a few days worth of food to carry along. You can copy this spreadsheet and change it however you want.
What motorcycle to use?
This applies to everyone that is considering to live on their motorcycle. I have made some trips on my naked bike, and I'm sure you can get much more uncomfortable ones.
You need to realise that you are going to spend hundreds of hours on that seat and if something is bothering you now, you either need to get it fixed or find a replacement.
Once you put a massive amount of miles on your machine, it is going to be too late to trade it in for a reasonable price. So make sure you are happy with the basics of your motorcycle.
Obviously, you can make mods on your bike to suit you better, and that is probably the best way to go. But you can't fit a shaft to a chain-driven bike or easily change any final drive for that matter.
You also need to consider the availability of parts in the area that you are travelling. For example; if I were travelling through Central-Africa, I would rather buy a BMW GS than a Ducati Multistrada just because I can't get parts for it easily in that area.
Can you afford it?
We will get generating income in a later section, but you need to make sure that you are able to afford your trip or new lifestyle. If not, I suggest you head over to the section where I give some ideas to consider for a viable income.
Is the budget realistic?
When setting up a budget, you are not only budgeting for food, fuel, maintenance and mobile data plan.
You also need to do a risk assessment; what if something breaks? Do you have medical care if you are in an accident?  What if someone steals your stuff? Do you have insurance? What if you lose your phone?
All of those "what if" questions are continually going through everyone's minds each day, and these questions are precisely what you are trying to escape.
So for your troublesome mind, I have drafted a budget spreadsheet that you can change however you want.
| | Daily | Weekly | Monthly | Yearly |
| --- | --- | --- | --- | --- |
| Fuel | 32 | 224 | 960 | 11520 |
| Food | 10 | 70 | 300 | 3600 |
| Maintenance | | | 90 | 1080 |
| Medical care | | | 330 | 3960 |
| Insurance | | | 45 | 540 |
| Mobile data plan | | | 10 | 120 |
| Savings | | | 200 | 2400 |
| Total | 42 | 294 | 1935 | 23220 |
Why you need a schedule?
Now you might not need a schedule for your daily activities, but it would be advantageous if you are laying out how much time you want to spend on generating income.
Also, it would be great for family and friends to know when you will be in their neighbourhood. If they know in advance, you can arrange to meet up with them.
The gear that you need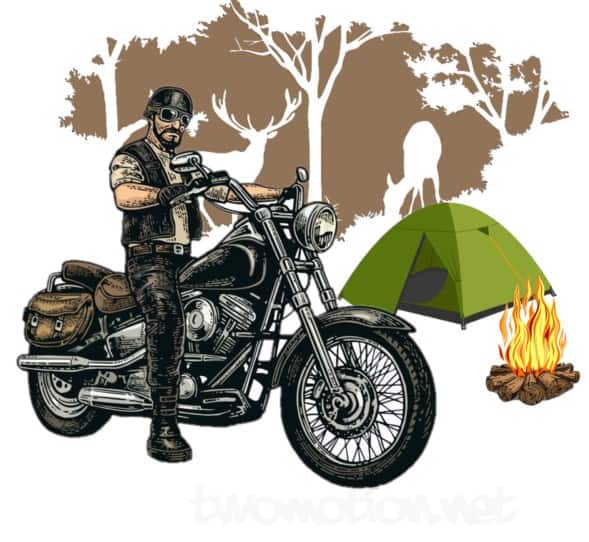 This list is the essential things you need, and in my opinion, everything else is dead weight.
Clothing
It is not possible to bring along your whole wardrobe, but you can do a few things that can save a lot of space. You also want to wash your clothes and have them dry quickly. 
Below is a video tutorial of how you can pack your clothes compactly.
I would advise you to only select clothes that dry out fast and also darker coloured clothes rather than white. If you have a leather jacket, you might give it in at the dry cleaners if or when it is needed.
Travelling on a motorcycle can really make your butt hurt. So I am very proud of this little hack; go to the cycling shop and get yourself one or two cycling pants. This has made my journeys much more comfortable, and it also literally saved my butt when I was in an accident.
Sleeping bag
If you don't already have a sleeping bag. I would advise you not to get one in a dark colour. From my personal experience; snakes like warm places and sleeping bags are often the place they would like to get into.
If it were not for the light colour of my sleeping bag, I would not have seen the snake while I was sitting at the campfire. At that time, I didn't have a phone at all, and I don't know how things would have turned out if my sleeping bag was black or grey.
Tent
If you want that outdoor life, you can get along fine with sleeping under a tarp. This is a great way to camp, especially if there is no one around for many miles.
But if you are going to more populated areas like designated camping grounds, you might consider a closed tent. Some pretty awesome tents even cover your bike.
I like to have a closed single person tent that is entirely separate from the bike. If you are considering the same, be sure to buy a dome-shaped tent in which you can sit up straight when doing some work on your laptop.
Mattress
When it comes to comfort, I don't like air-matresses at all. And if you have never used one, I suggest borrowing one from someone to test it out before spending the money. 
But lately, I've bought myself a self-inflating sleeping pad with its own pillow attached. I haven't used it much, but it works much better than any other air-mattress that I've tried. If I had enough space on my bike I would really just like to take a regular foam mattress but this isn't possible.
Tools
Tools are dead weight until you need them and you don't know what tools you will need. Like most motorcycles, I have the compact standard tool kit that comes with the bike.
For the other additional tools, I like to shop in the cycling department because they seem to be much more compact and lighter. Not all their tools work on motorcycles, like a chain breaker among others, but simple tools like screwdrivers or torque keys work fine.
Sacks and containers
If you intend to live on your motorcycle, it would be very useful to have saddlebags or containers to store your stuff. Keep in mind that you get what you pay for; some don't even last a year.
These items really depend on what you are riding and what fits your style and budget. But I will say that as I like to travel very light, I've been able to do a lot with just one tail bag.
The tail bag that I used got ripped apart in my head-on collision with a car, but I was able to stitch it up and still intend to use it again.
It works great if you want to store your camera and other equipment because you can use the shoulder straps to take everything along when climbing up mountains.
Equipment
When it comes to motorcycle camping equipment there are too many to mention so I have made a list of my favourite items that I like to have when travelling.
Motorcycle helmet lock with cable
​​​When I go to sleep, I usually put my helmet inside the tent with me. But when I want to go exploring up a mountain or so, I need to put my helmet somewhere safe, or I use a helmet lock that is attached to my bike.
Portable camping stove
​Although making a campfire is the ultimate experience, it takes a while to get that fire ready to make your dinner. And depending or where you are travelling, you might not have firewood available to use.
Motorcycle USB charging kit
​If your motorcycle doesn't already have one built-in, I highly recommend installing a kit to charge your phone or other devices.
Compact 10000mAh power bank
​As I need to do some work at night, I might need some extra power to keep going for a few hours. This is also a backup for my phone if for some reason I might need it.
Keyboard case for tablet
​If you do a lot of typing like myself, you should consider a keyboard for your tablet. This also makes it easier as you no longer need a laptop and all those charging systems for it.
Universal phone mount
I am a bit of a gadget freak, and some might say it is just going to keep me from enjoying the world around me. But it is still very useful to have the phone handy when navigating.
Biker bushcraft
Bushcraft itself is having a few simple tools and making your surrounding more comfortable or habitable. And bushcraft is no different for bikers except for the number of tools you can carry and how it may be applied using your motorcycle as well.
This is a whole topic on its own, and you can definitely benefit from learning the skills. These skills would typically include making a fire, building a shelter, finding and purifying water and finding food.
If you want to learn more about bushcraft, I suggest you head over to bushcraftbase.com for well informed how-to guides and recommendations.
Safety and security
This is not particularly road safety, and you might find yourself travelling through areas where it might not be the safest place to camp. There could be a high risk of theft or even your personal safety.
Road Safety
There is always a chance of crashing your bike even if you obey all the rules of the road. If you are travelling alone or even with someone, you may want to have a few things in place:
First aid kit
Medical aid information stiched somewhere to your jacket.
Crash detection app on your phone (I used this for some time)
Install brake light strobe relay
Motorcycle security
There are hundreds of products out there to make your motorcycle more secure, but I have found that keeping an eye on my bike is the best way.
But sometimes you may want to go climbing mountains or take a swim in a lake. And if you don't have anything securing your helmet and other belongings you might need to carry on without them if they are stolen. 
I've never really used any security products except for a helmet lock. But I do know that hard saddlebags with a lock is much better than leather or textile saddlebags regarding security.
Personal security
​You need to consider personal safety, especially if you are travelling through countries that are infamous for attacks. A handgun is an ultimate tool for this and something like a compact .38 is all you need.
Some or most countries do not allow you to take along your firearms. So an airgun is probably the best you could do, and you don't have to clean it like you would with a handgun.
Although some nights it might be good to keep yourself busy with cleaning your gun or sharpening your knife. A knife is not as effective but is also a tool for bushcraft. I would recommend anyone travelling to have at least one good knife.
Income
Making money on the internet isn't a walk in the park, and you should diversify as much as you possibly can. You need to realise that making money on the internet will take a lot of time before you start profiting.
So here is a list of incomes that you may consider:
Write articles for clients online (HireWriters, TextBroker, and iWriter)
Build a website
Youtube
Publish Kindle ebooks
Do online design work (like designhill)
What you will gain from this lifestyle
Living on a motorcycle can be hard at times with breakdowns, money issues, your diet and loneliness, among many other things. But there are many good things to experience living this way.
You get to see the world up close and be part of it in some way each day. You get to wake up and instead of driving your car through the city traffic at 7 AM you are somewhere in the woods or a desert having coffee while watching the sunrise.
Instead of trying to ignore your neighbour because your dog pooped on his lawn, you are setting up your tent and have a campfire going before you start to do a bit of writing in your journal.
You are not spending your nights on Pinterest looking at nice scenery pictures because you spent the whole day doing that in real life. You get to see, smell and hear all of it.
You don't spend all your weekends fixing things in and around the house but rather spend a bit of time every day polishing your bike. You get to not having to worry about much.
You don't have the radio on in a car that feels too quiet but instead enjoy the sound of your motorcycle on the open road while listening to the thoughts in your head.
You don't watch the time on the clock tick by; waiting for it to be five past five so other people would think it would be acceptable for you to leave work. Instead, you pull off the road when you feel that you found an excellent or perfect place to set up camp.
Conclusion
You don't necessarily have to remove yourself from the rest of the world, but it is a pleasant experience to be away from all of it. You might consider doing this for a year or two, or maybe for the rest of your life.
I still feel that before I go on a year or two-year trip, I need to make a short one month trip first, especially if it is a new bike. The experience you gain unmatched value and even more so if you are travelling to different countries with different cultures.
I hope that this guide has given you some general idea of what you need to do or work towards to start living this lifestyle.
Featured image by brothers_on_harleys
I always try to keep my articles interesting and informative. And I'm always thankful when they are shared on social media platforms or Pinterest.