The H-D Bronx has completely disappeared from the "future motorcycles" list on the official Harley-Davidson website which leads many to believe that the Bronx project has been aborted. A few days after the Bronx went "missing", there is still no reason to believe otherwise.
The Bronx is (or was) a motorcycle planned to reach out to a different audience and market other than the cruiser riders that Harley-Davidson has been dominating for so many years. Although the streetfighter-styled Bronx was getting a lot of attention from younger motorcyclists and it's not completely unrelated to the Harley cruisers.
While the transition between a modern Harley cruiser and the Bronx is very subtle, the Bronx also shares some characteristics with motorcycles like the Ducati Monster, the Kawasaki Z1000 and also the Indian FTR 1200, regarding riding position, engine displacement and the overall outline of the bike.
"It would seem that Harley-Davidson has completely lost interest in gaining new younger riders"
But this might not be completely true, or at least not confirmed yet. With the economy hanging on a tread and so much uncertainty, it seems like a good idea to play it safe for a while when choosing to dedicate resources into manufacturing new products.
Still, why the discreteness? From a bystander's perspective, it looks like they were trying to sweep the project under the rug and hoped that no one would notice. But I know better than to judge an action without an explanation. So until we receive an official statement from Harley-Davidson, I won't Judge their action.
"But if this is what they intended, I don't really see any reason why I should be bothered with it"
The Bronx was something many people had been looking forward to since 2018 when the first images appeared on the web. Although the attraction gained by the Bronx looks somewhat similar to the Pan America, it should at least be considered for future production.
A quick Google Trends comparison revealed something interesting:
While the Bronx and Pan America had roughly the same value on web searches, the Custom 1250 had far less (I tried different search phrases as well).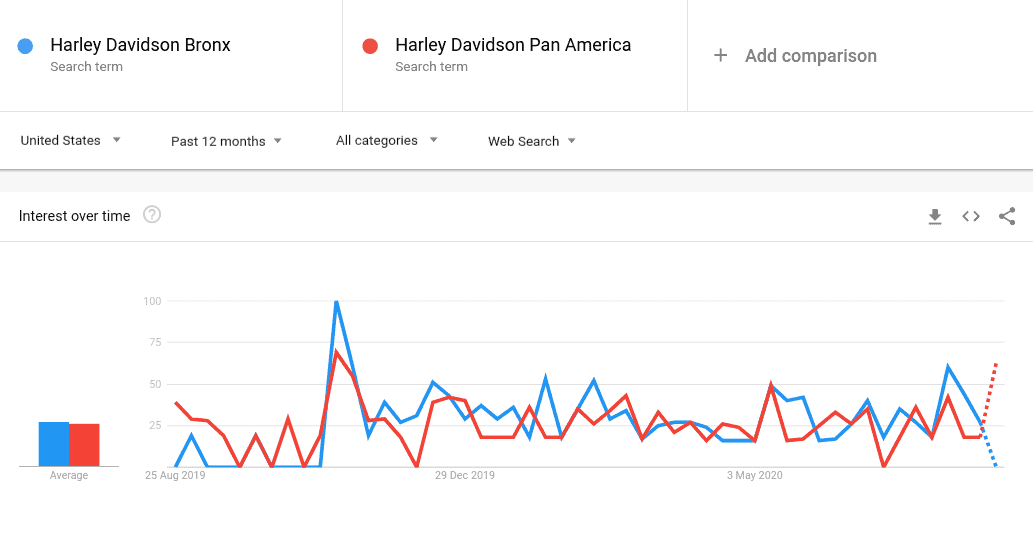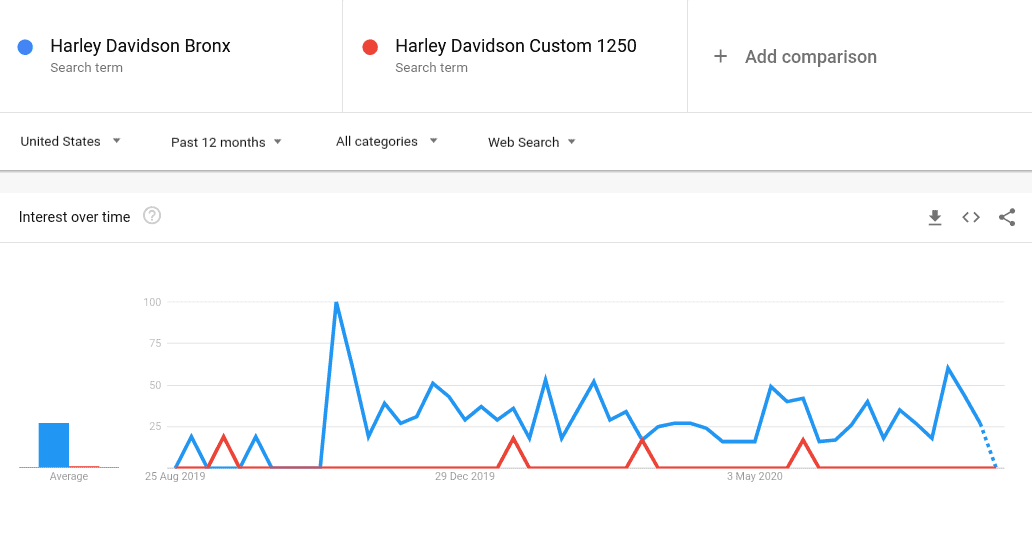 "This doesn't seem right… Why would they abort the Bronx instead of the Custom 1250?"
I'm a bit sceptical on whether Harley-Davidson really did abort the Bronx. But seeing as the Pan America will be sharing the same 1250cc engine, they don't need two separate production lines for the engine of both the Pan America and Custom 1250. That would make sense…
But until Harley-Davidson makes it clear what is going on, we just have to wait and hope for the best.