There are certain motorcycles that might seem more appropriate for young adults and they could be, like the iconic Yamaha YZF-R3. But if you are one of these young adults, or a parent of one, you should also take into thought that some of these motorcycles are overrated and might not be the best option.
Overview
In this article, we discuss what you need to look for when buying your first motorcycle as a young adult. Obviously, there will be some parents reading this, and I'll address you here as well, because there are some things you will need to discuss with the youngsters before they get on two wheels.
We will discuss the following:
General discussion (for the young adults and their parents)

Safety talk
Are small cc motorcycles really better for young adults?

Choosing a motorcycle as a young adult

Determine the purpose of riding a motorcycle
Compare your options
Deciding to buy new or used
Some tips when buying

Recommended motorcycles for young adults
General discussion
Safety talk
Yes, you need a safety prep talk but not from me though. I'm too irresponsible myself to be giving this kind of mentoring to young adults or their parents for that matter.
The fact is, riding a motorcycle is a risk but there is a lot you can do to make it safer for yourself. This would include wearing proper gear like a helmet, riding boots, riding pants and a good jacket. That I can help you with, in my reviews.
But you will also need to learn how to ride in a safe manner from someone who knows how to mentor you. If you are a new rider or even an advanced rider, Dan from the DanDanTheFireman channel on YouTube can be a great resource and mentor. I highly recommend you go watch his videos before you start riding on public roads.
If you are a parent of a young adult, you should watch Dan's videos as well because their are some valuable lessons for drivers who share the road with motorcyclists. And you might be encouraging them to be safe simply by sharing some of Dan's videos with them.
Are small cc motorcycles really better for young adults?
Smaller cc engines on motorcycles does not make it safer or easier to ride. In fact, it might be more difficult to ride. Yes, a 1000cc bike is probably too much for a new rider, but on a sportbike, 250 or 300 just struggles to get up to speed and they stall so easily. I don't know why people ever thought they make good beginner bikes.
It could be because of the weight. That would make sense, right? Except it doesn't. Try riding a Honda Rebel 300 and then a Honda Rebel 500 and you'll realise that the weight doesn't really make that much of a difference. But you are more likely to stall the 300 than the 500 because you have a bit more power when pulling away on the 500.
For a young adult who is a new rider, this can get frustrating when they have to learn how to work the gears, the rules of the road and how to not stall the bike. It's much easier learning on a 500 than a 300 and because of that, safer as well.
Now, there is a difference between a CBR500 and a CBR600 and people will be quick to point that out. The CBR600 isn't for beginners because it has a high-performance engine among other aspects that make it difficult for new riders to handle.
My point here is around 500cc is what you should be looking for if you are a young adult, with average height and weight, who is a new rider.
Choosing a motorcycle as a young adult
Determine your purpose for riding
Before you even start looking for a bike to purchase, you need to ask yourself why you want to start riding motorcycles. Is it to commute and just get from point A to B? Do you want to experience that adrenaline rush? Do you want to join your friends who already have motorcycles?
By answering these questions, you are one step closer to choosing a motorcycle as a young adult.
If you want to commute, you would probably want to look at fuel consumption and maintenance costs. If you don't trust the manufacturers' fuel consumption claims, you can always find out what other riders get from fuelly.com.
For some bikes, maintenance can be very expensive. Consider buying a brand that has dealerships or a parts distributor near you.
If you want to ride just for the thrill and fun of it, you might be looking at bikes that performs or looks the best. I can honestly tell you that you don't need to be looking too much into top speeds.
There is a lot more to riding motorcycles than just going fast. But if speed is essential to you, you'll always be able to find out on the manufacturer's spec sheet.
Take a look at the tires you are getting on the bike. You might be thinking you'll just replace the tires with soft- or dual-compounds once the tires need replacing, but the fact is hard compound tires last a long time, and you might even end up selling your bike with that same set of tires. You preferably want soft or dual-compound tires to get the most traction from the start.
Riding with friends is priceless, and you obviously want to be able to keep up with them. But you are the new rider, so ask them what their plans are for the future.
Are they planning to upgrade to a bigger cc bike soon? Are they planning to go into a different category of motorcycles? If there is one thing that I've learned, it's that people often say they will never sell that specific bike, but then a month later they decide there is something bigger and better to ride. So just keep that in mind.
Compare your options
Below I've put together a basic table that compares some starter bikes. I recommend setting up such a table. You can add columns with information that are essential to you like fuel consumption, engine size or anything else you like.
| Motorcycle | Type | Price |
| --- | --- | --- |
| Honda CB300R | Naked | $ 4,949 |
| Honda CBR300R | Sport | $ 4,699 |
| Kawasaki Ninja 400 | Sport | $ 4,999 |
| Kawasaki Z400 | Naked | $ 4,799 |
| Suzuki GSX250R | Sport | $ 4,499 |
| Yamaha YFZ-R3 | Sport | $ 4,999 |
Deciding to buy new or used
Buying a used bike as a young adult is probably the best choice you can make. The fact is you will most likely drop your bike, and the chances are good that you will fall a few times in the parking lot.
Purchasing a "pre-loved" motorcycle with just a few scratches would be the smart choice. Btw, I've never owned a brand new motorcycle. I've always bought a used bike, even when I was in a position to buy a new one.
You can start looking for used bikes on cycletrader.com or at your local motorcycle dealers.
Some tips when buying
Before deciding on the motorcycle you want to buy, go to the dealerships and ask them if you can sit on the bike. Make sure you feel comfortable on the bike and that your feet reach the ground.
Ask the dealer if they can start-up the bike. Trust me on this one, it matters.
Take someone along who knows a thing or two about motorcycles, and ask them to give their opinion on the options you have in mind.
If you haven't ridden a motorcycle before or don't have a lot of experience, don't ride it out of the dealership. Ask an experienced rider to take it home for you if the dealership can't deliver it (Most of them do).
Recommended motorcycles for young adults
Your first ride should fit your lifestyle and liking. Don't buy a particular bike because everyone else thinks it's "cool" or supposedly suits you. Choose a bike that you really want and suits your wallet and your needs.
But HOLD ON! Don't scroll past this…
If you are not extremely light in weight, you shouldn't consider the bikes on this list at all. For a young adult, with an average height and weight, you should rather be looking at sport or cruiser motorcycles with around 500cc. If you are into dual-purpose bikes, 250cc is still okay.
I would recommend that you have a look at why I think the Honda Rebel 500 is the best bike for new riders in another article. For those who are very lightweight or just want to get from point A to B, you can consider the bikes in this list (but also have a look at the other article).
The bikes that I recommend here are all from major manufacturers. There are a lot more options out there for new motorcycles, but these are all under $ 5,000 and have parts available almost all over the world.
CB300R – Honda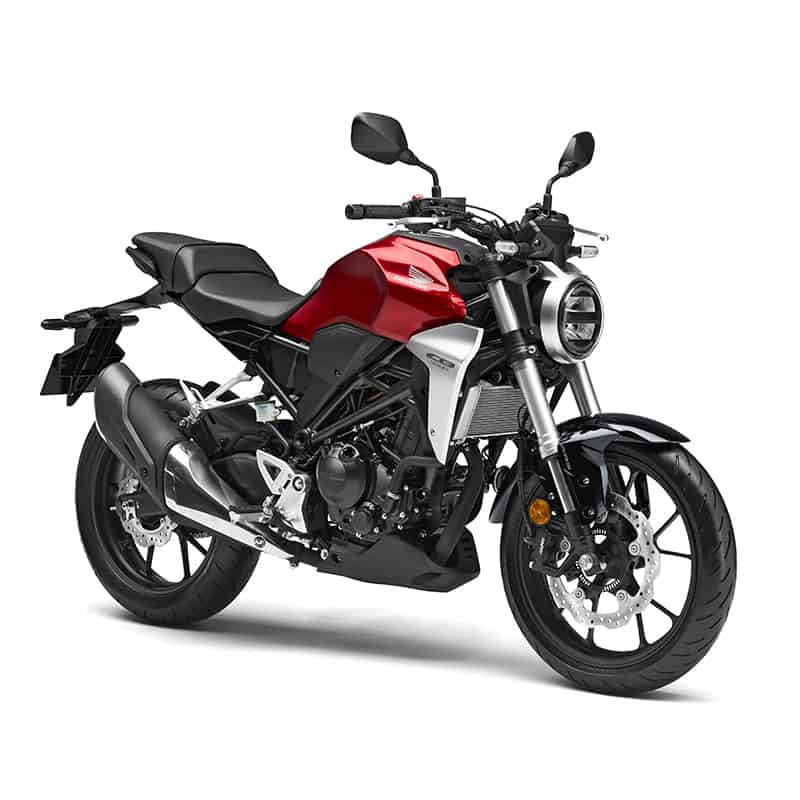 This naked bike most definitely has the looks and would undoubtedly do well for the commuter.
Top speed
Power
23.1 kW (31.0 hp) @ 8,500 rpm
Torque
---
CBR300R – Honda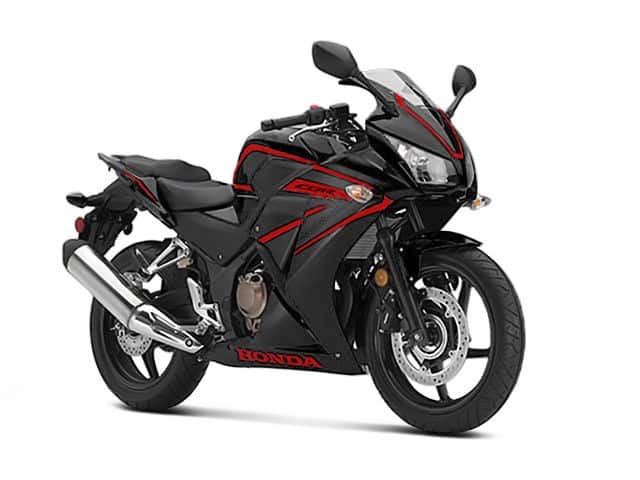 Based on a popular favourite, this bike is exceptionally lightweight and nimble.
Top speed
Power
19.9 kW (26.7 hp) @ 8,500 rpm
Torque
---
Ninja 400 – Kawasaki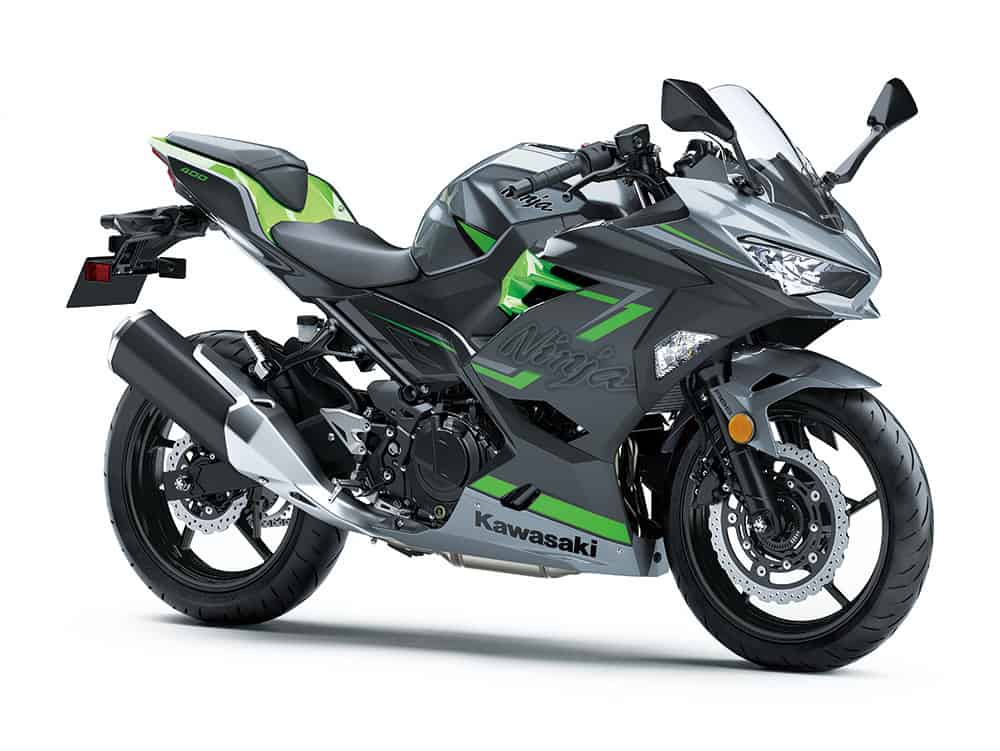 This little green monster has similar styling to the well-known H2 and ZX10. 
Top speed
Power
33.4–36.5 kW (44.8–49 hp) @ 10,000 rpm
Torque
---
Z400 – Kawasaki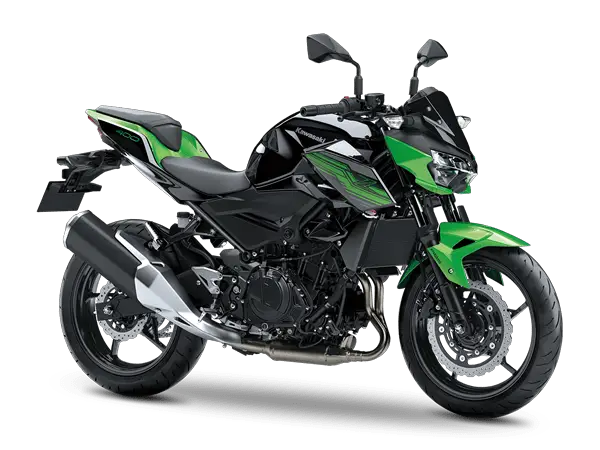 My personal No.1 choice from this list. This naked bike sits comfortably and handles well.
Top speed
Power
33.4–36.5 kW (44.8–49 hp) @ 10,000 rpm
Torque
---
GSX250R – Suzuki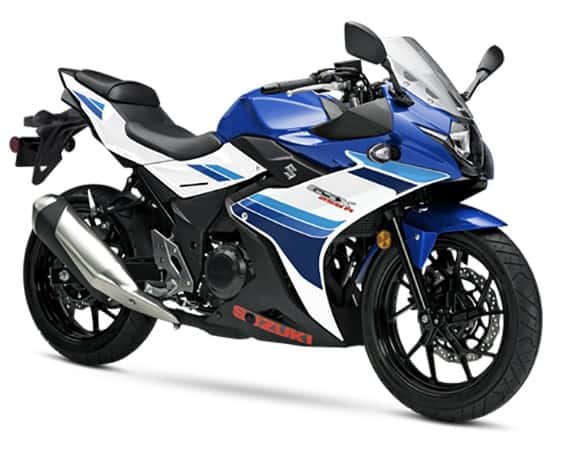 The smallest cc bike on this list, GSX250R, is still quite capable.
Top speed
Power
Torque
---
YZF-R3 – Yamaha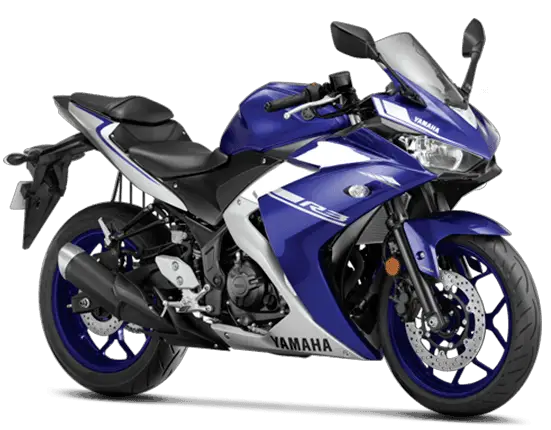 The R3 is very popular, and you will know why if you ever get to see it up close.
Top speed
Power
31 kW (42 hp) @ 10,750 rpm
Torque
---
Final words
As a young adult on your first bike, you might want to take a course or two. You don't realise it now, but there is a lot of things we motorcyclists do that you probably never even thought of. Depending on your location, msf-usa.org or motorcycle-training-label.eu can be helpful resources for finding motorcycle training courses.
I always try to keep my articles interesting and informative. And I'm always thankful when they are shared on social media platforms or Pinterest.