New riders can choose a complete motorcycle starter kit that has everything they need to get on the road. This one includes a low-budget beginner bike and protective gear that is very affordable. This is the low-budget motorcycle starter kit.
Overview
In this article, we look at the items you need as a beginner rider who doesn't have a huge budget. The important thing to remember is that if you can't afford a bike with gear, then you can't afford the bike at all. If you keep to that mindset and save up, you won't regret buying your first motorcycle.
This is the low-budget motorcycle starter kit:
| Item | Price range |
| --- | --- |
| HJC CS-R3 | $ 90 |
| Bilt Blaze 2 | $ 160 |
| Revit Mosca Gloves | $ 50 |
| Merlin Zodiac | $ 150 |
| Yamaha MT 03 | $ 4,600 |
| Total (estimate) | $ 5,050 |
HJC CS-R3
This helmet doesn't have a drop-down sun visor but it's super cheap and DOT certified which makes it a good choice for new riders that need a basic helmet to get started.
HJC is a well known brand so getting spare parts, like a replacement visor, won't be a hassle.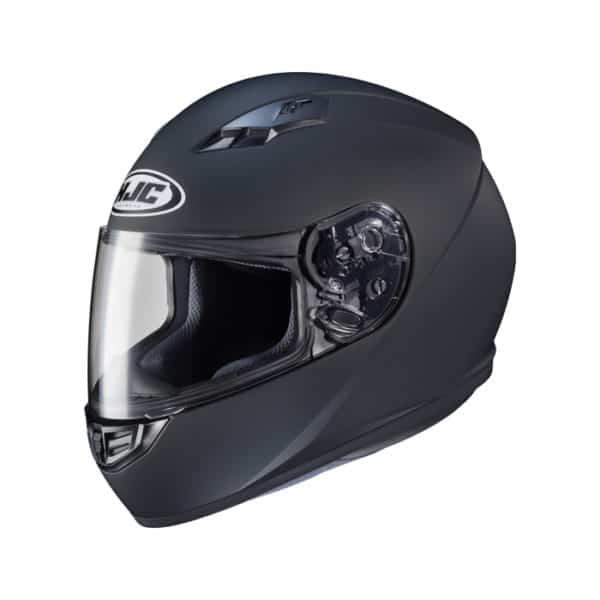 Price range: $ 90
When choosing a helmet, you always need to make sure that it is either DOT, SNELL or ECE certified. For beginner riders, a DOT certified helmet will be acceptable but in the future, when you purchase faster highway bikes, you ideally want an ECE certified helmet.
ECE certified helmets can offer you more protection, especially in crashes that aren't related to tip-overs or low-speed collisions. For now, the HJC CS-R3 will work until you have a bigger budget.
Bilt Blaze 2
This jacket offers CE rated protection on the elbows and shoulders from the start, but you will need to purchase a back protector seperatley.
Yes, you do need a back protector and they cost around $ 50 so it's not a complete budget breaker.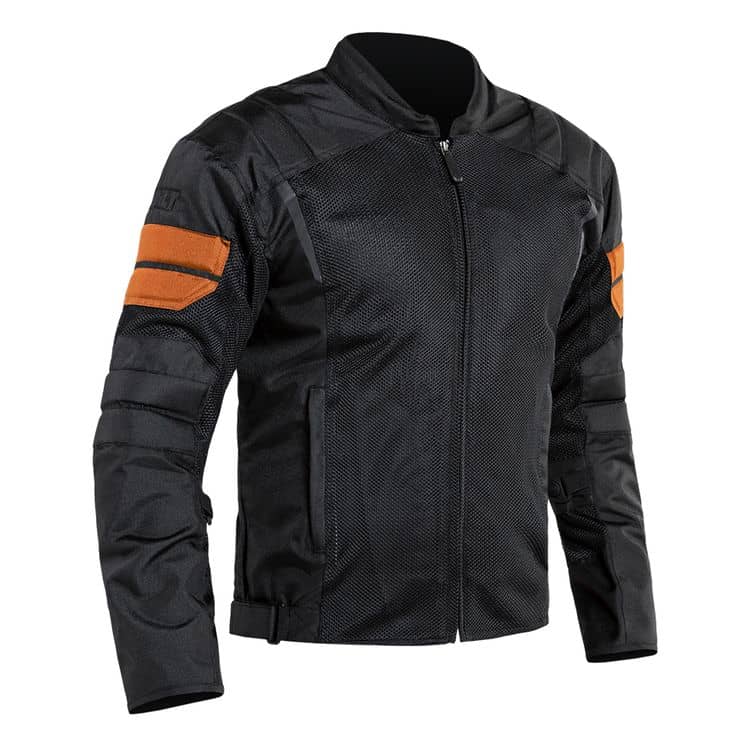 Price range: $ 110 + $ 50
Like most jackets, there is a pocket in the back of the jacket where you can insert the back protector that you bought. Some jackets have foam inserts in the pocket to keep the jacket's form but these foam inserts don't offer any protection.
You should also look at the rating of the protectors. Decent protectors are either CE1 or CE2 rated. The CE1 rating is alright for commuting and street riding but CE2 is better. If you can afford a CE2 back protector, then I suggest you buy it.
I typically don't like recommending textile jackets because they have less abrasion resistance than leather jackets but you are probably more at risk of an impact than a slide at this stage. Just keep that in mind for the future though.
Revit Mosca Gloves
I would recommend these gloves to anyone starting out on a motorcycle but the truth is you can choose whatever you like.
Motorcycle gloves are not that expensive so there's quite a wide range of gloves you can choose from.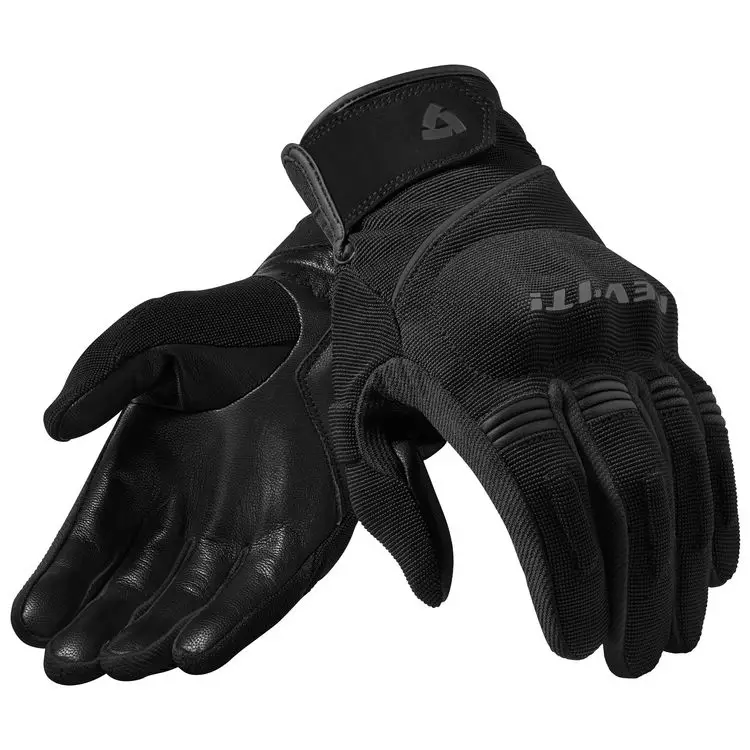 Price range: $ 50
What you will need to consider is the type of weather you are riding in. Summer gloves might be able to protect you in cold weather but the colder your hands are, the longer it takes you to respond on the brakes.
So, cold hands could potentially cause you to crash if something happens to cross into your lane and you can't react in time.
You will also need to make sure the gloves you are buying offers good protection on your palms and knuckles where you are most likely to get injured. And very importantly, your gloves should firmly strap around your wrists because they tend to come off when you slide over the asphalt.
Another thing you should consider is how comfortable the gloves are. I've had gloves with a thick seem on the fingertips. When you lean forward on the bike, the seem pushes in between your finger and nails making it impossible to enjoy riding.
Merlin Zodiac
For a new rider who doesn't have much to spend, I would recommend these boots because they are very affordable.
They don't have any fancy features and are probably the most plain motorcycle boots you'll ever see but they are still proper motorcycle boots.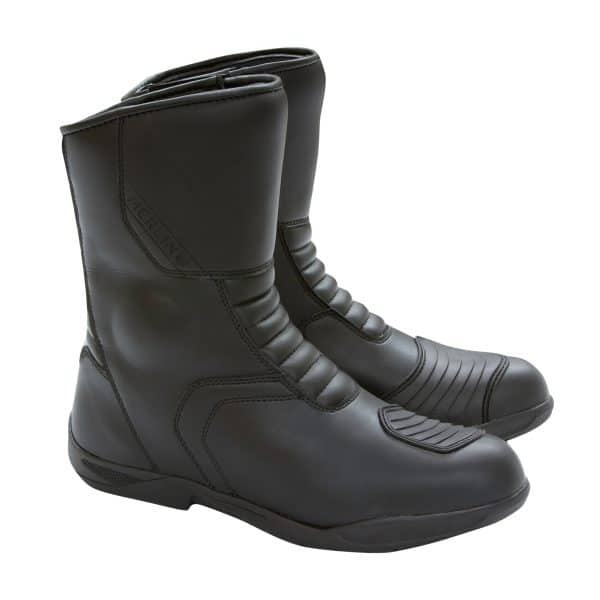 Price range: $ 150
You can't get away by riding with normal shoes or work boots. They don't offer the protection that motorcycle boots have. Motorcycle boots can protect you from slides as well as impacts to a certain extent.
Don't ever buy "riding shoes" because they don't give you the protection you really need on your shin. "Riding shoes" are the most hyped up crap you could possibly waste your money on, and I'm not exaggerating here. The only reason they are popular is because they are popular (like the Kardashians).
You want to get yourself boots that are tall and ideally fit under a pair of jeans. The Merlin Zodiacs is slim enough that you can do this without too much hassle.
Yamaha MT 03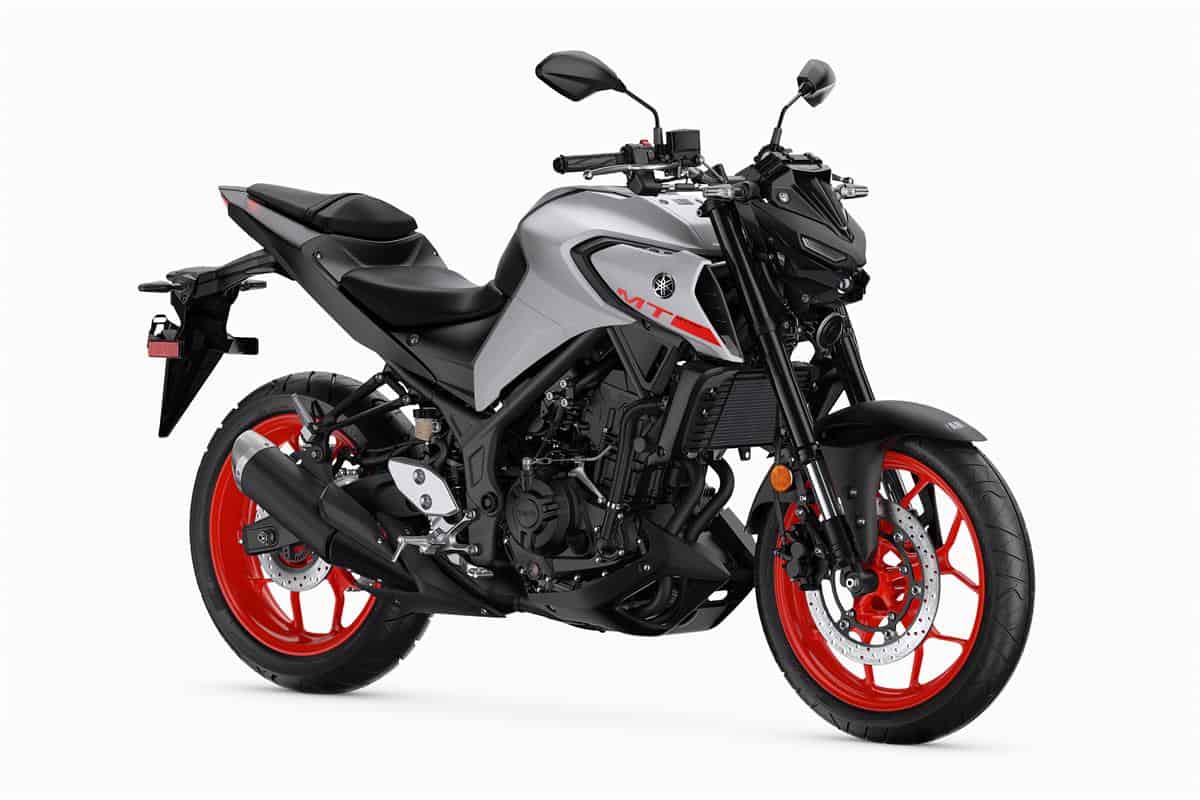 Price range: $ 4,600
The Yamaha MT 03 is great value for money but a bit too underpowered when pulling away, in my opinion. That's why I recommended the Kawasaki Z400 in the naked bike starter kit for only $ 400 more.
But that $ 400 is enough to buy all your gear in this starter kit. And when you are counting pennies just to get on the road, the MT 03 makes a lot of sense.
Don't get me wrong, there's nothing wrong with the MT 03. But it is easier to learn how to ride when you don't stall the bike every time you pull away. Other than that, the MT 03 is a really cool bike to own and ride.
Before the MT 03 came out, I would have recommended a small dual-sport bike to start on because they are so easy to learn on and priced just about the same for a known brand.
But naked bikes are almost just as easy to ride since they inherently have an upright seating position and wide handlebars. It also looks dope, so I don't see any reason for you to ride a dual-sport if you aren't into off-road riding.
You could probably find a much cheaper pre-owned bike on cycletrader.com but you'll have to know what to inspect on the bike before buying. If you decide to go down this path, I suggest letting someone with a lot of experience go with you when inspecting the bike.
Also, don't be in a rush, that once in a lifetime deal that popped up two hours ago will happen again, and if something seems like it's too good to be true, it probably is.
Learning to ride
You'll probably spend some time learning for and getting your lisence so I would recommend following DanDanTheFireman on YouTube where he discusses various things regarding learning to ride and motorcycle safety. His classes on YouTube are free but you have the option to support him through donations.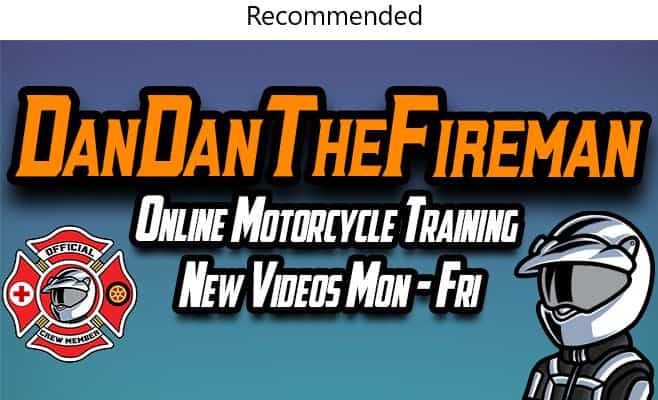 Final words
I hope this starter kit is of value to you and that you find the right gear that you need as a beginner rider. If you want to explore other options, you can have a look at my other starter kits.
I always try to keep my articles interesting and informative. And I'm always thankful when they are shared on social media platforms or Pinterest.