The Honda Grom is a good starter bike for those who don't have any experience with riding motorcycles, but it isn't so useful outside of parking lots or the suburbs. Still, it's easy to ride and very cheap, so you don't have to worry too much if you drop it.
Overview
I have to say that I would not have recommended the Honda Grom to anyone for their first motorcycle just because it's so tiny and it doesn't really look anything like a real bike. I usually recommend starting on something that has between 400cc and 500cc, like the Honda Rebel 500.
I taught my girlfriend how to ride a motorcycle on a Honda CBR250, which was a challenge as you would expect. It's not unusual, learning to ride can be difficult. But she's quite short and very light. And I think she lost interest in riding because there wasn't any fun in riding that thing. You're just constantly trying not to fall over.
Very interestingly, the first bike she rode herself was my CBR1000RR Fireblade, and after a couple of weeks she said that my bike was easier to ride than her CBR250. Now just to be clear, a 1000cc sportbike is probably the worst bike to learn on. That just shows you how bad of a beginner bike the CBR250 is.
If I chose the right bike for her to start on, she might have still been riding today. You can only crash so many times before you forget why you started riding.
It doesn't make sense starting on something that looks cool but you almost kill you. Not everyone grows up around motorcycles. Not everyone has that natural instinct to just get on a bike the first time and start riding. And that's okay.
There's no point in trying to prove you can ride a big bike if it ends up killing you, right? Start where it makes sense for you.
So I would say that if you don't know anything about motorcycles, you could benefit from starting on a Honda Grom, especially if you are very light. And when you're done with it, you'll be pleased to know that it conveniently fits into a wheelie-bin.
We'll discuss the following in this article:
What makes the Honda Grom good for beginners?
Why 250cc and 300cc bikes don't make sense but the 125cc Grom does
Can you get your licence with a Honda Grom?
What to do with your Honda Grom after you learned the basics of riding
What bike should I get after learning on the Honda Grom?
How to ride the Honda Grom
What protective gear should I wear if I'm riding a Honda Grom?
Where can I learn about motorcycle safety?
What makes the Honda Grom good for beginners?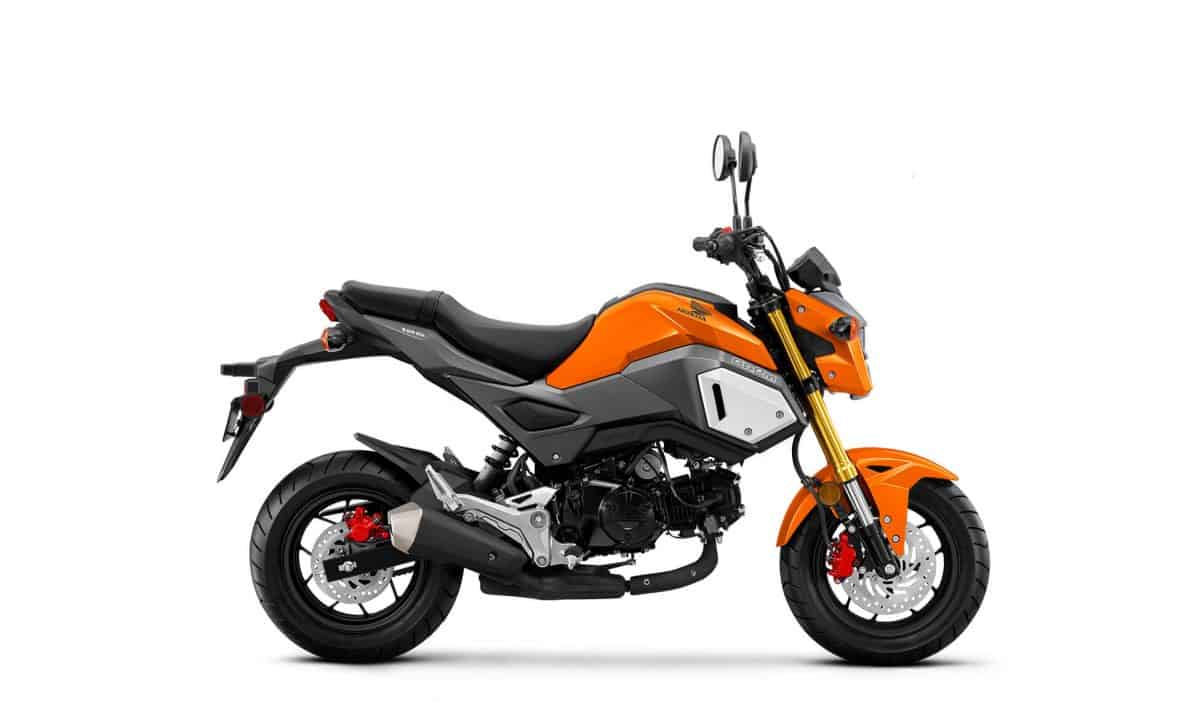 The Honda Grom is a lightweight, nimble, low-powered, basic motorcycle that has standard controls similar to larger motorcycles. This makes it a good learning platform for lightweight-beginner riders with a minimum amount of risk.
Weight
The Honda Grom weighs only 229 pounds with a full tank of fuel which is a lot less than the Honda CBR300R at 357 pounds or the Honda Rebel 500 at 408 pounds. This makes the Grom super easy to control at low speeds, or when you are pushing it in and out of the garage.
Note: the Honda Rebel 500 is easier to ride than the CBR300R for a couple of reasons but a low centre of gravity is what makes it feel lighter than it actually is.
Manoeuvrability
The Grom is very nimble, meaning that every input from the rider has an immediate effect on the steering. Doing thing "A" gives you result "B" with minimum delay. This means that you don't have to wonder what you did that caused something to happen. It's easy to catch on.
Power
The Honda Grom has a 125cc single-cylinder engine with very little power which makes it less risky for new riders. It has 9.7 HP to be exact, but for its size, it's still enough to have a bit of fun.
Controls
The controls on the Honda Grom is very similar to what you find on any normal motorcycle. This makes the Grom a good "simulator" for learning the basic controls like operating the clutch, shifting gears, using the indicators, accelerating and braking.
Why 250cc and 300cc bikes don't make sense but the 125cc Grom does
One thing that you have to understand about beginner motorcycles is that the displacement doesn't have an enormous impact on the weight of the motorcycle. For example, the Suzuki GSX250R weighs 392 lbs, while the Honda CBR500R, with twice the displacement, weighs 419 lbs.
Both the GSX250R and CBR500R are beginner bikes but you only get 25 HP from the GSX250R. That might be enough power for learning how to ride in a parking lot, but once you get comfortable with the basics and start riding in the suburbs, you'll find that you run out of power pretty quickly. You don't even need to be on a highway to figure this out.
My point is that it doesn't make sense to buy a 250cc or 300cc motorcycle when a 400cc or 500cc motorcycle weighs just about the same. A 40 HP to 50 HP motorcycle is probably the best choice if you want a beginner motorcycle.
The Honda Grom, on the other hand, weighs a lot less than any of those beginner bikes and you still have a pretty normal seat height. It's all about the weight of the bike.
| | | |
| --- | --- | --- |
| Honda Grom | 125cc | 229 lbs |
| Suzuki GSX250R | 250cc | 392 lbs |
| Honda CBR500R | 500cc | 419 lbs |
What I'm saying here is don't start on one of those 250cc or 300cc bikes because the 400cc and 500cc bikes handle just about the same. But if you feel you are not ready for them, start on a Grom and then move over to something like the CBR500R or Ninja 400.
Can you get your licence with a Honda Grom?
In the US, you can use the Honda Grom for the MSF test and get your motorcycle licence since it has more than 100cc. It's possible that some instructors will mistake the Honda Grom as a pit bike, so you might need to explain that the Grom is street legal and requires a license to ride.
What to do with your Honda Grom after you learned the basics of riding
If your intension is to use the Grom as a temporary learning platform, don't buy a brand new one. Buy a pre-owned one that you can use and abuse until you get your first "real bike". Then you can sell your Grom.
But there may be some cases where you would want to keep your Grom after getting a bigger bike; like when you just want to mess around and practise your wheelies. That would make sense because learning how to wheelie on your brand new "big bike" will probably end badly.
It might also be the case that you have a younger brother or sister who is also interested in riding motorcycles. The Grom could become that family hand-me-down bike that gets you all on two wheels.
As a new rider, you're not just learning how to ride; you also have to learn about motorcycle maintenance. The Honda Grom has a simple engine to practice changing the oil, replacing spark plugs and setting the chain tension. For the sake of learning to do maintenance, it's nice to have the Grom around. You get some first-hand experience without having to worry too much about screwing up.
But if you know you're not going to ride the Grom again and it's just going to take up some valuable space in your garage, sell it while it still runs. There's probably a beginner out there who needs a Grom at an affordable price.
What bike should I get after learning on the Honda Grom?
After you're done with the Grom, a good bike for beginners to continue learning on is the Honda Rebel 500. But not everyone is interested in cruiser styled motorcycles, so I have some starter kits that could be useful. These starter kits can help you find a decent motorcycle for your style of riding and the gear that goes with it.
If you are unsure about which style of motorcycle you like, go for a naked bike. Going from a naked bike to anything else, is pretty easy and naked bikes handle pretty much like what the Honda Grom does.
How to ride the Honda Grom
What protective gear should I wear if I'm riding a Honda Grom?
When riding any motorcycle, you should always wear a helmet, motorcycle boots, gloves and a motorcycle jacket. Those are the most essential things you need to wear and it's no different for the Honda Grom. To get an idea of what this could cost you, have a look at the low-budget motorcycle starter kit (minus the motorcycle).
Where can I learn about motorcycle safety?
I suggest taking a motorcycle safety course if you are able to do so. If there aren't any motorcycle safety courses in your area or country, you can learn almost about all the basics and more advanced things from DanDanTheFireman on YouTube. He discusses just about anything a beginner rider should know and I gladly recommend his guidance to any new rider.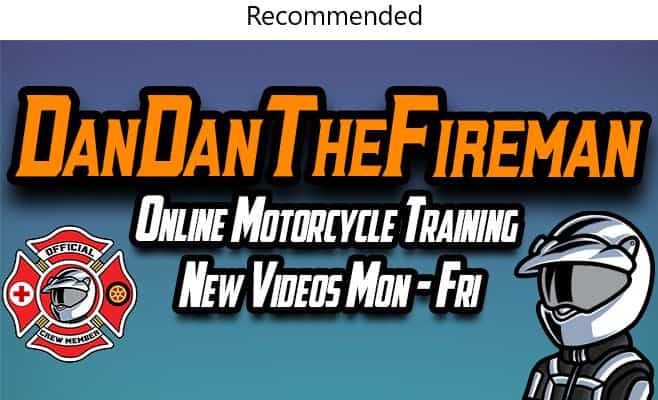 Final words
The Honda Grom might be for you, or it may not. Personally, I wouldn't recommend it unless you absolutely need to learn completely from scratch. I hope this article was useful to you. If it was, you might like my other content in the beginner guide category. Safe riding!
I always try to keep my articles interesting and informative. And I'm always thankful when they are shared on social media platforms or Pinterest.